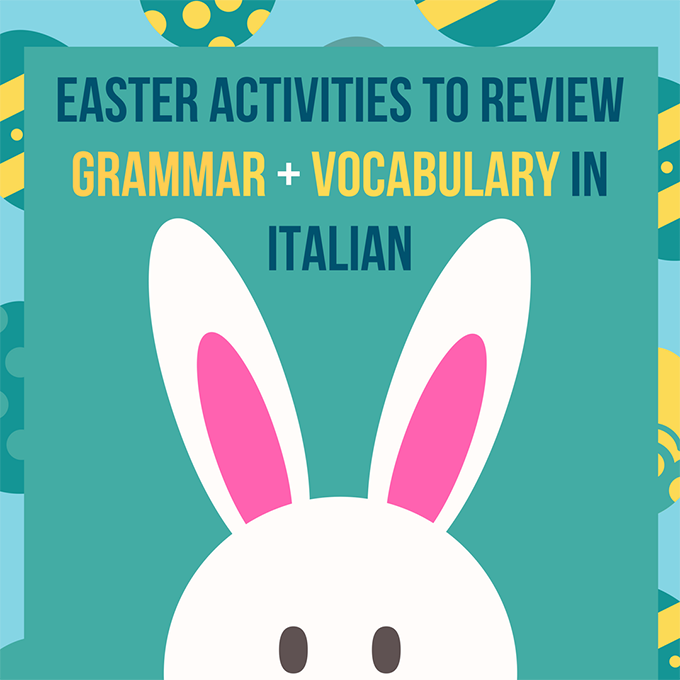 One thing you may have noticed about me is that I get ridiculously excited about holidays.
I love holidays and traditions.
Traditions are one of the reasons why foreign cultures intrigue me so much. I always ask myself: "What is it like to spend New Year's Eve in Spain?" or "I eat Pandoro for Christmas, what do they eat in Croatia?".
Since holidays are the best time to take a break, relax, and enjoy time with the family, some people find it harder to keep practicing their target language.
You too? Well, fear not!
I've prepared some fun Easter-themed activities so you can get your Italian language practice even when your mouth is full of chocolate and you're surrounded by eccentric Easter eggs.
In this article we'll review together:
Before we get started, don't forget to download your fill-in-the-blank workbook!
Italian Prepositions of Place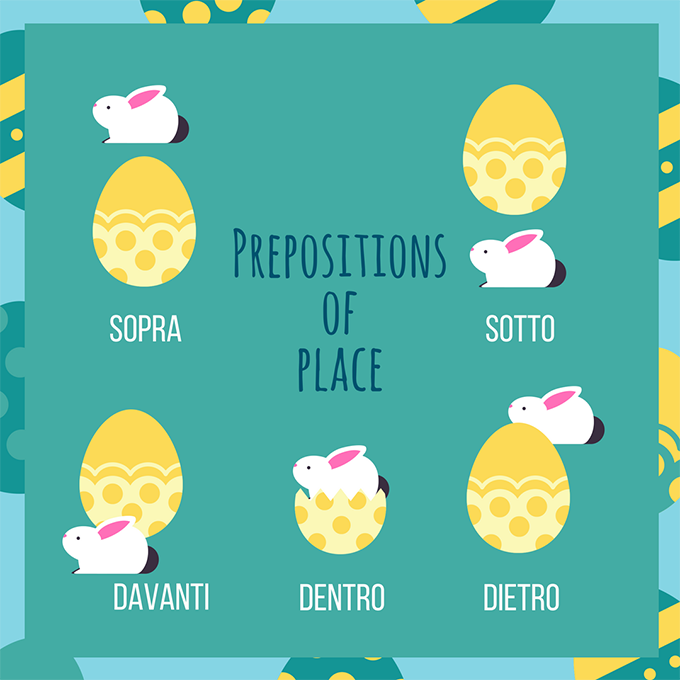 Bunnies like to move around and this gives us the perfect excuse to review the main prepositions of place in Italian – le preposizioni di luogo.
Shall we look for Easter bunny together? Where is he? Where did he go? Dov'è il coniglio di Pasqua? 
Il coniglio di Pasqua è dentro l'uovo. Easter bunny is inside the egg.
Il coniglio di Pasqua è sotto l'uovo. Easter bunny is under the egg.
sopra

– on

sotto

– under

davanti

– in front of

dentro

– inside

dietro

– behind

tra/fra

– between

a sinistra

– on the left

a destra

– on the right

al centro

– in the middle

accanto

/

di fianco a

– next to

vicino – near
intorno – around
Open Questions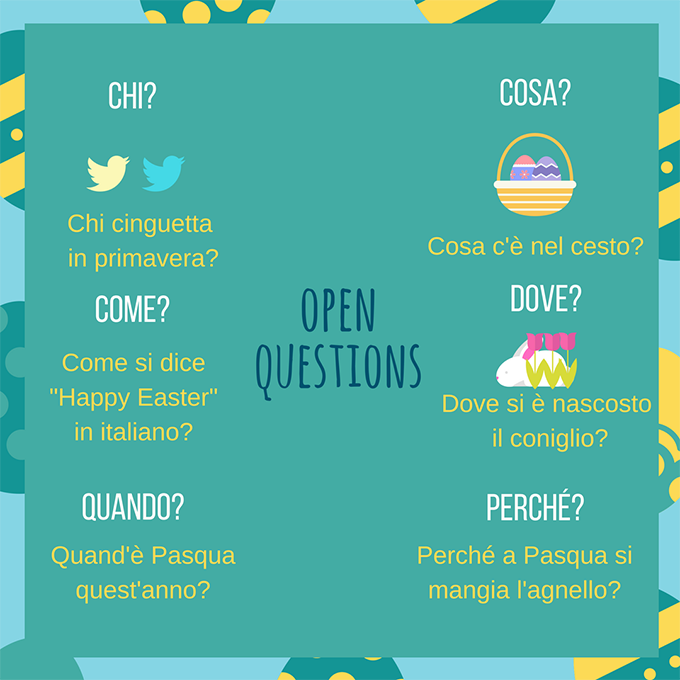 We use open questions every time we want to formulate questions that can't be answered with a simple yes or no answer.
We need interrogative words in order to do that, also known as WH-questions in English. Let's see if you remember the Italian ones.
Chi?

– Who? Whom?

Che?/Cosa?

– What?

Quando?

– When?

Dove?

– Where?

Perché?

– Why?

Come?

– How?

Qual/Quali?

– Which?

Quanto/a/i/e?

– How much?
Genders & Agreement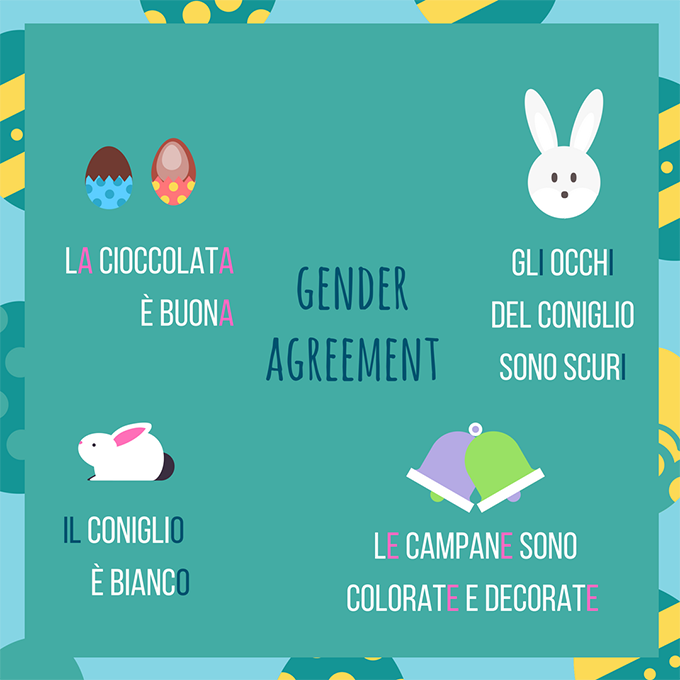 In Italian, every noun has a gender – either masculine or feminine.  Nouns that end in -o are usually masculine, and those ending in -a are usually feminine.
Italian articles and adjectives must "agree" with nouns in terms of number and gender. So, if we're talking about una casa – a house – we can use adjectives like bella and spaziosa to describe it. The endings always have to match.
Another example?
A nice boy is simpatico. → Il ragazzo è simpatico [masculine, singular]
A nice girl is simpatica. → La ragazza è simpatica [feminine, singular]
Nice boys are simpatici. → I ragazzi sono simpatici [masculine, plural]
Nice girls aresimpatiche. → Le ragazze sono simpatiche [feminine, plural]
Ahh, if only it were that simple!
Every rule has its exceptions and so does this one. There are words in Italian ending with -a or -e that are used to indicate both feminine and masculine subjects. There are also words ending in -a that are actually masculine instead of feminine (like il clima – the weather) and vice-versa. The article used will reveal you the gender.
Did you have fun?
If so, you would be doing me a HUGE FAVOR by sharing this post via Twitter, Facebook, Google + or Pinterest. Let's spread the love for the Italian language 🙂
Italian Vocabulary for Other Holidays