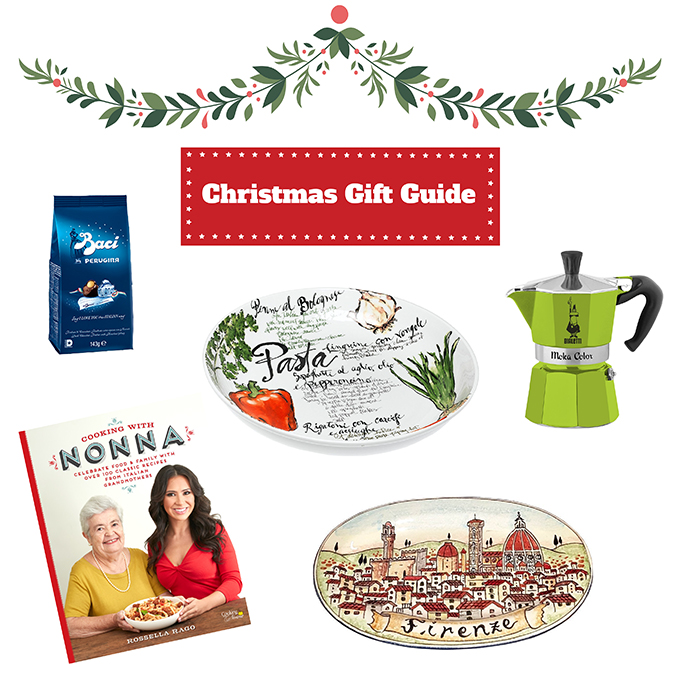 Welcome to the second part of my holiday gift guide for Italy Lovers.
I've drawn up a list packed with creative ideas for presents that will certainly help you make "una bella figura" – a good impression!
The best part? You won't have to break the bank to do so — everything is priced between $5 to $20!
So, without further ado, here is my selection of books and films about Italy  — look closely, there might be JUST what you're looking for.
❄ FILMS SET IN ITALY
A film set in Italy is a good way to get in the mood for an upcoming vacation in the 'bel paese' or to think about the time you spent there. These films should be a part of every Italophile movie collection.
A beloved classic with the ever-charming Audrey Hepburn at the helm. What's not to love?
Warning: this is not for the faint of heart. You'll cry. A lot. Get your tissues ready.
Oscar-winning "La vita è bella" tells the story of a father who shields his son from the horrors of a concentration camp by pretending it's all a game.
Julia Robers embarks on a journey of self-discovery in Italy. The film is based off of Elizabeth Gilbert's 2006 memoir.
Can't make it to Tuscany? Just enjoy the Tuscan scenery from the comfort of your own home with the movie "Sotto il sole della Toscana".

Verona is home to Juliet's balcony and is where this film takes place. Take a delightful trip around the city with Amanda Seyfried who plays the main character, Sophie.
A romantic thriller starring Angelina Jolie and Johnny Depp. Set in Venice. 'Nuff said.
Fun, romantic and star-studded. Worth it if you miss Rome and its beautiful views. Because, in all honesty, who can say no to Rome?!
🎄 BOOKS ABOUT ITALY
Elizabeth Minchilli has been eating her way through Rome since she was 12 years old. Eating Rome, based on her popular blog Elizabeth Minchilli in Rome, is her homage to the city that feeds her, literally and figuratively.
Dreaming Sophia is a magical look into Italy, language, art, and culture. It is a story about turning dreams into reality and learning to walk the fine line between fact and fantasy.
A celebration of the language and culture of Italy, La Bella Lingua is the story of how a language shaped a nation, told against the backdrop of one woman's personal quest to speak fluent Italian.
Take a culinary journey with Rossella from Italy to America with her debut cookbook Cooking with Nonna, featuring over 100 classic Italian recipes.

Which Italian item is your fave?
Don't forget to check out my other Christmas gift guide for more inspiration!
This post includes affiliate links to products I recommend. You can read my full disclosure here.