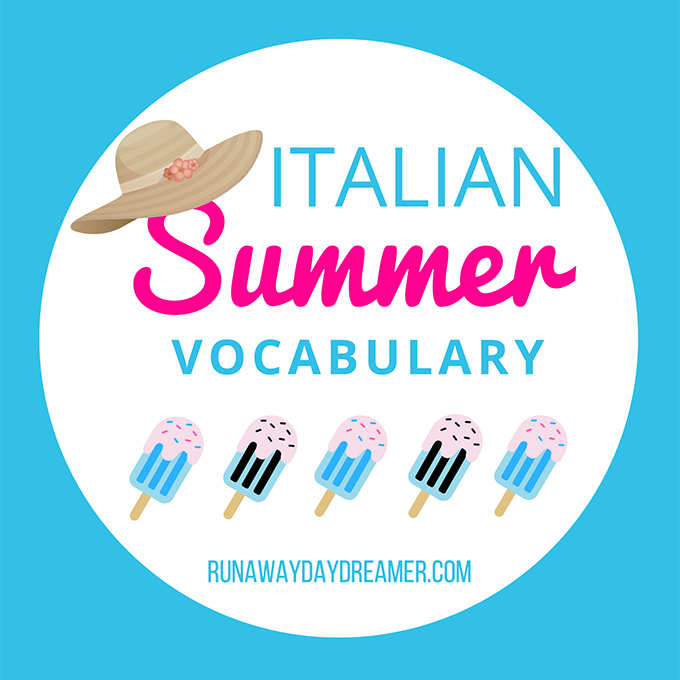 Let's start with the basics.
The word for summer in Italian is "estate".
Now, I know what you may be thinking – "That's an English word!"
Well, estate is actually a falso amico – false friend – meaning that it looks and sounds the same as in English but has a different meaning.
Rather than a patch of private land with a property, in Italy the word estate indicates "la stagione estiva", the summer season.
Summer is the season of colori vivaci (bright colors) and attività all'aria aperta (outdoor activities).
"Le vacanze" are the holidays. The word is plural and feminine and you need it to wish someone happy holidays: "Buone vacanze"!
Where do Italians go for the holidays?
Most of them vanno in vacanza al mare (go on holiday to the seaside) to relax in spiaggia (on the beach) or fare un tuffo nell'acqua (make a splash in the water).
Of course they also enjoy spending time sotto l'ombrellone (under the beach umbrella) so they can prendere il sole (to sunbathe) while they play parole crociate (crosswords) and mangiano frutta fresca (eat fresh fruit).
If you have kids, trips to the seaside mean packing secchiello e paletta (bucket and spade) so you can happily costruire un castello di sabbia (to build a sandcastle) with them.
You may want to include braccioli (water wings) or un salvagente (a lifebuoy) in your valigia (suitcase) just in case the kids want to go for a swim.
Sea's not everyone's cup of tea so some Italians may opt for una gita in montagna (a trip to the mountains) or un viaggio all'estero (a trip abroad).
What about those who don't go anywhere and just stay in town?
Many Italian cities and small villages host local celebrations such as sagre di paese (town festivals) and processioni (processions).
August 15th signals the peak of summer. It's Ferragosto – Assumption Day – a national holiday in Italy. Offices are closed, as well as some shops and restaurants.
Italians are usually headed to the countryside or nearby beach resorts to cool down and enjoy un po' di aria fresca (some fresh air).
Italian summer vocabulary

Occhiali da sole– sunglasses
Crema solare – sunscreen
Giornate soleggiate – sunny days
Caldo – hot
Costume da bagno – bathing suit
Spiaggia – beach
Mare – sea
Nuotare – to swim
Prendere il sole – to sunbathe
Ondata di caldo – heatwave
Cool Expressions
You may overhear Italians say the following phrases when the sun is shining and the temperature is rising.
Come picchia il sole! – How the sun beats down!
Un sole che spacca le pietre –- a blazing sun, a sun hot enough to fry an egg
Bello come il sole – beautiful as the sun
Il sole bacia i belli – the sun kisses the beautiful ones
Baciato dal sole – sun-kissed
Si crepa dal caldo –  It's sweltering

Si bolle – It's boiling hot
Useful words and phrases for your summer trip to Italy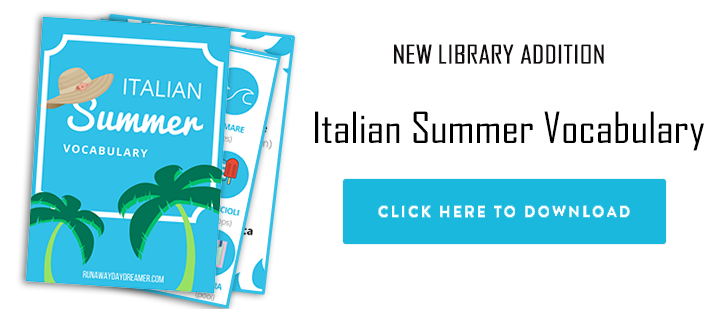 I have carefully crafted a vocabulary cheat-sheet for you, so don't forget to grab your copy in printer-friendly PDF format for free!
If you already have access to the Language Library, you can download it directly from there.
You would be doing me a HUGE FAVOR  by sharing this post via Twitter, Facebook, Google +, Instagram or Pinterest.
Ready to brush up on more Italian Vocabulary? 👇🏻