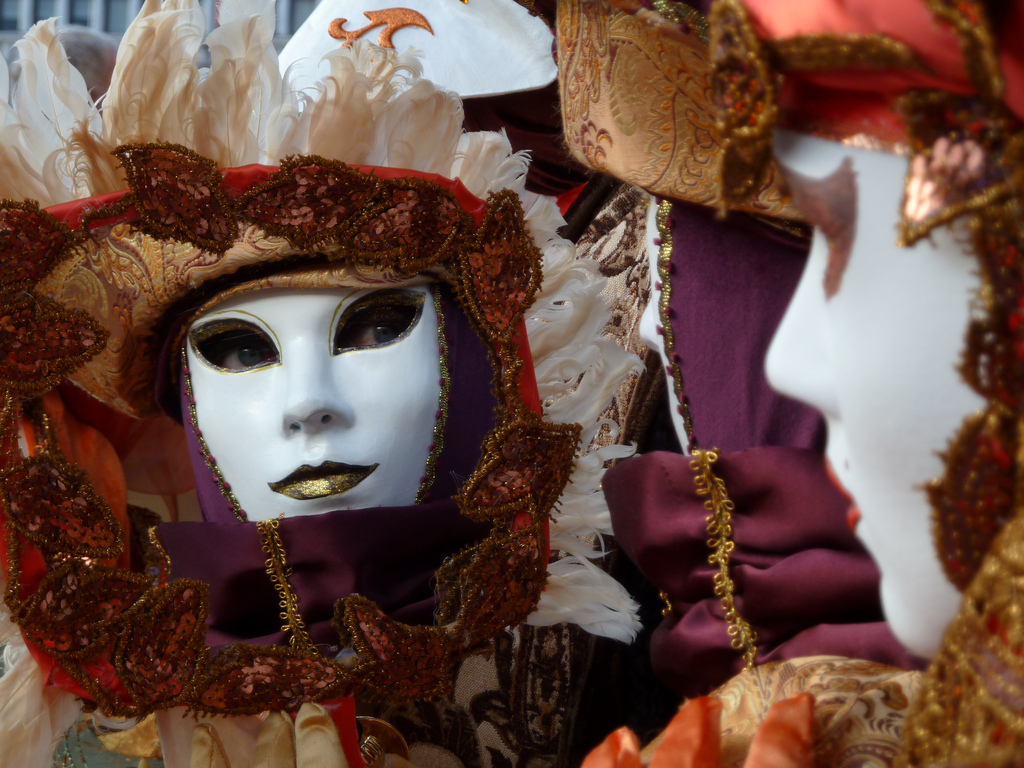 Confetti? Check! Crazy and colorful costumes? Check! A playful attitude? Double check! We're all set and ready. It's time to celebrate. It's Carnival time!
Let's step back in time for a minute and see how it all got started, shall we?
Ancient Roots | How did the Carnevale tradition begin? 
The Carnival celebrations are linked to pagan practices from ancient Greece and Rome and they can be traced back to the Middle-Ages. It started as a festival held in mid-December to honor the god Saturn with feasting, gift-giving and role reversal.
The name "Carnevale" comes from the Latin phrase "carnem levāre": carnem stands for meat and levare means "to take away or remove".
Hence, Carnevale can be translated as "to put away meat". Indeed, meat was forbidden during Lent (La Quaresima) – the period of prayer, fasting, and abstinence that comes straight after the festival – so Carnevale was kind of a last chance to indulge the passions of the flesh.
During Carnevale, you could let go and party with reckless abandon and freedom.

How do Italians celebrate Carnevale today?
Fast forward today – how do Italians celebrate Carnevale?
Carnevale is still a huge celebration that goes on for two weeks or so.
Children usually dress up as their favorite supereroi (superheroes) or personaggi dei cartoni animati (cartoon characters). Mischief and pranks are so popular that the common saying in Italy is: "A Carnevale ogni scherzo vale!" (At Carnevale, anything goes!)
Italians do Carnevale parades like no one else. For real.
Have you ever heard of "Il Carnevale di Venezia"? I bet you have! There's nothing quite like it.  
We're talking about a whole season of masquerade. It boasts parades, costume balls, entertainment, music, and it's the perfect occasion to dress up and have fun in a very unique atmosphere.
Some of the highlights are:
"La maschera più bella

" (Best Mask Contest), selected by international experts

"Il Volo dell'Angelo" (The flight of the angel) – Click to see the video, you'd better not miss it!

Gondola and boat parades along the Grand Canal

Mask parades in Piazza San Marco (St. Mark's Square)

Children's events in the Cannaregio district

Grand finale with fireworks
Vocabolario di Carnevale / Italian Carnevale Vocabulary
— Le maschere – The masks
— I festeggiamenti – Festivities
— La sfilata di Carnevale – Carnival Parade
— Travestirsi per Carnevale – to dress up for Carnival
— Le tradizioni di Carnevale – Carnival traditions
— I costumi – Costumes
— I coriandoli – Confetti
— Le stelle filanti – Streamers
— Carri mascherati – Carnival floats
— Ballo in maschera – Costume ball
—  Scherzi – Pranks
— Martedì grasso – Fat Tuesday
— Divertirsi – to have fun
— Strade affollate – Crowded streets
 Useful Carnevale phrases
— A Carnevale ogni scherzo vale! – At Carnevale, anything goes!

— Festeggi il Carnevale? – Do you celebrate Carnival?

— Cosa fai a Carnevale? – What do you do for Carnival?

— Vuoi venire a vedere la sfilata? – Do you want to go see the parade?

— Mi piace molto il tuo costume! – I really like your costume!
Ready for more language goodness? 👇🏻
Image is considered a great association for language acquisition, that's why I'm sharing Carnival-themed animated gifs and pictures to teach you new Italian words. One image per day. Fun, colorful and useful!
Hop on over to our Instagram and Facebook page to follow along.
Let's do this!
photo credit: @ fra_cas