'Mamma' is often the first word babies utter in Italian.
It's a simple, two-syllable word, with such a huge meaning.
In fact, "la mamma" is probably the most important figure in the life of Italians, so much so that Italian men are famous all over the world for being "mammoni" – "mama's boys".
"La mamma è sempre la mamma."
That's our motto: "The Mom is always the Mom".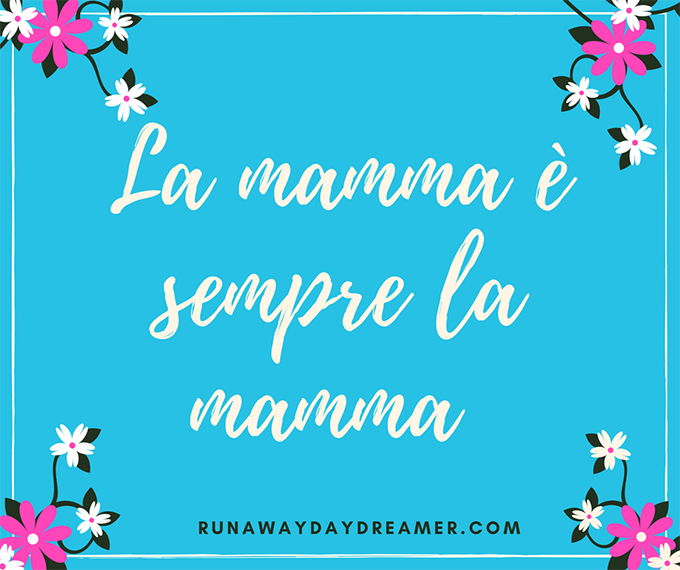 Le mamme italiane – Italian mothers – are quite dedicated and are widely known for being nurturing and caring.
In Italian we'd also say that "di mamma, ce n'è una sola" – "there's just one mother" – meaning that we should be grateful for our one and only mother because she will always be there for us.
In Italy, Mother's Day – La Festa della Mamma – falls on the second Sunday of May, like in the United States.
Sons and daughters usually present una poesia (a poem)  prepared at school in honor to their mothers. They'll give it to their mom or recite it out loud in front of the whole family (typically before eating lunch).  
Mothers will also receive flowers and little cards, either bought or handmade.
Greeting cards may be adorned with drawings and messages flush full of adoration, like "Ti voglio tanto bene" (I love you so much) or "Sei la mamma migliore del mondo" (You're the best mom in the world).
VIVA LA MAMMA!
"Viva la mamma affezionata a quella gonna un po' lunga…"

Famous Italian singer Edoardo Bennato used to sing these lyrics in the 80's. His song's been a hit ever since and it's perfect to celebrate this day all'Italiana (in Italian style!).
Viva la mamma!
Viva la favola degli anni cinquanta
Così lontana eppure così moderna
E così magica

Long live the mom!

Long live the tale of '50,

so distant but still modern

and so magic.
Italian Vocabulary for Mother's Day

Mamma – mom
Madre – mother
Maternità – motherhood
Figlio – son
Figlia – daughter
Bigliettino di auguri – Greeting card
Regalo – present
Fiori – flowers
Festeggiare – to celebrate
Buona Festa della Mamma – Happy Mother's Day
Tanti auguri, mamma – Happy Mother's Day
Ho un regalo per te – I have a present for you
Ti voglio bene, mamma – I love you, mom
How well do you know Italian holidays?
Click below and get a better insight into Italian culture, customs, and traditions.
Oh, don't forget to test your Italian knowledge by grabbing the exclusive bonuses in our library.
SÌ! I want the Vocabulary Worksheets!