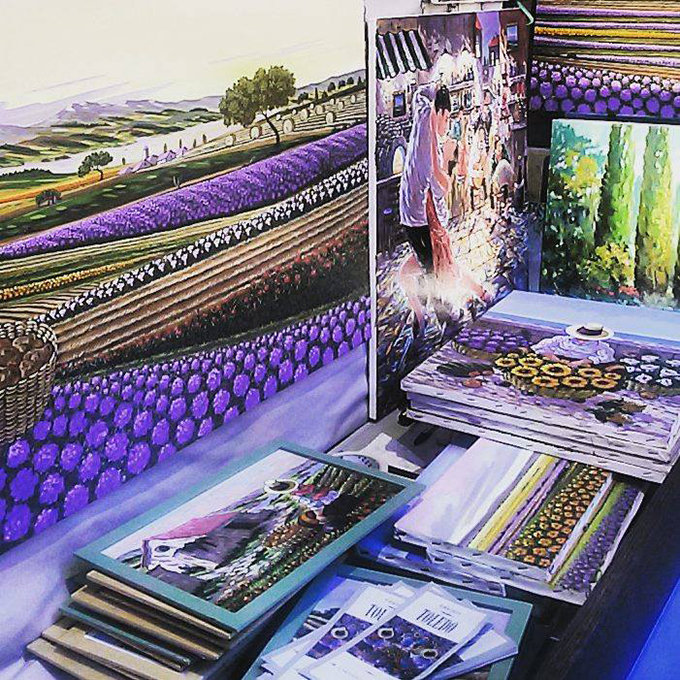 "I Cento Pittori di Via Margutta" (One hundred Painters of Via Margutta) is an unmissable open-air art exhibition that takes place twice a year in Rome.
It features artists from all walks of life and it's free of charge for everyone.
First, a little throwback for those of you who are not familiar with this event: the tradition began in 1953 when a group of local painters decided to revitalize the street with bright colors in the aftermath of world war two.
Via Margutta has been home to every kind of painter, sculptor, and craftsman ever since.
The beauty of the Cento Pittori exhibit lies in its rich variety: you can gaze on vividly colored watercolors, then turn a corner to see sketches and drawings of all types.
More than 3,000 artworks are usually showcased, making this four-day event a bi-annual gathering for locals and art lovers.
The story behind each piece
What's really fascinating to me is discovering the behind-the-scenes of each individual piece. This is made possible by the direct, one-on-one contact with the artists. You're free to chat with them, dig deeper, ask them how a particular painting came to life.
That's something you don't experience in big art galleries or museums and it's so real, so authentic, so meaningful. Sharing laughs, anecdotes, and life experiences in a magical atmosphere such as this one is truly priceless. If you're lucky, you'll also have the chance to admire some of the painters "all'opera" (at work) as they create their masterpieces. And perhaps you'll find yourself mesmerized by the making of a still life painting – just like it happened to me!
Quite honestly, this art exhibition "a cielo aperto" (under the open sky) can only be described to a certain extent. It's just something you have to witness with your own eyes. Something you need to experience first hand.
In the meantime, do check out the official website to find out more.
>>>>>