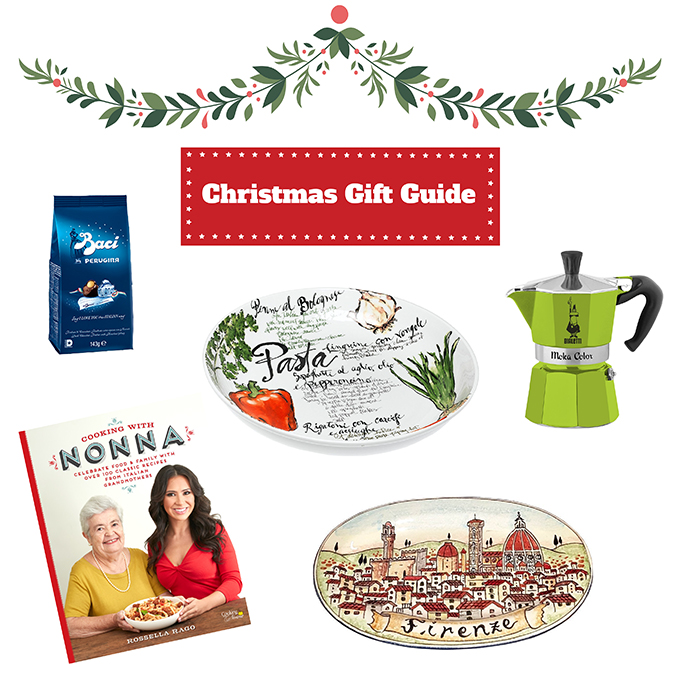 Just in time for the holiday gift-giving season, I've put together the best Italian-inspired gift ideas to create a list that will make your Christmas merrier and brighter.
This list includes some of my favorite things, items that I personally own and items that I'd buy for someone who is crazy about Italy and all things Italian.
I hope it will help you find the perfect gift for the special people in your life or even for yourself.  *wink wink*


🎁 ITALIAN ESSENTIALS
1) A MOKA POT
Coffee is more than just a daily ritual in Italy.
Like food, coffee is sacred in our country and our caffè has nothing to do with the watery, tasteless coffee often served in bars and cafeterias around the world.
If you want to enjoy coffee like a true Italian, you need the right equipment — a Moka pot!
There are so many to choose from but Bialetti would undoubtedly be a top choice.
I recently gifted the one with the colors of the Italian flag and it was greatly appreciated!
Illy coffee makers are also pretty darn cool so you should totally check them out.

2) ITALIAN-INSPIRED HOME DECOR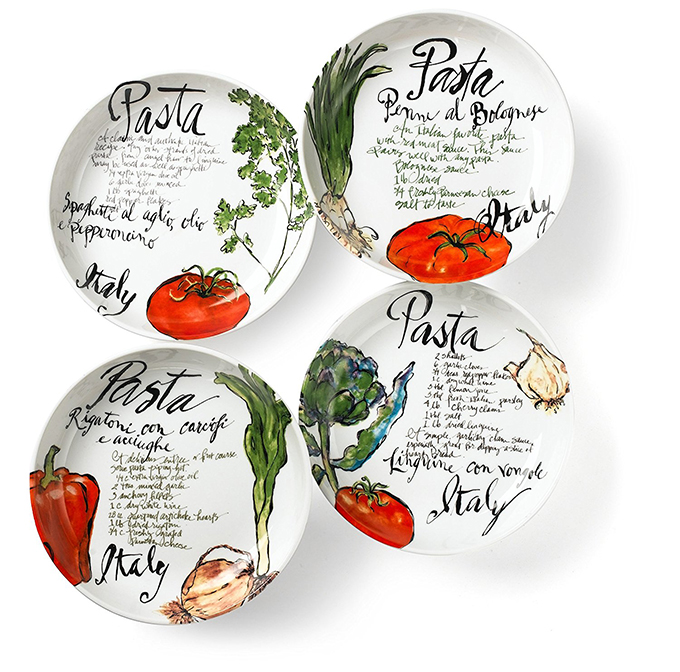 There's nothing more Italian than cooking pasta.
Serving freshly cooked spaghetti or gnocchi to your friends and family will make you feel like you're living in the Tuscany countryside, especially if you create a whole Italian eating experience by gathering everyone around a neatly embellished table.
These gorgeous bowls by Rosanna will make it possible and will also ensure you'll get lots of compliments!
The best part? There are authentic Italian pasta recipes written on each bowl. Not to mention the hand-lettering… it makes me melt.
CERAMICHE D'ARTE PARRINI (since 1979!)
Is there anything better than handcrafted gifts made by local artisans in Italy?
If you know someone who loves pottery and is just as enamored as we are with Italy, gift them something unique like a piece from the Ceramiche d'Arte Parrini store.
Another great place to shop for ceramics is Ceramica Solimene. These brightly colored ceramics are produced in a factory in Vietri sul Mare (on the Amalfi Coast) so you're getting the "real deal".
🍝 ITALIAN FOOD (YUM!)
Christmas without Pandoro and Panettone would be unimaginable in Italy.
Whether you prefer the former (like me!) or the latter, your Christmas table wouldn't be complete without them.
I bet even Santa would appreciate a slice of Pandoro next to the milk and cookies. Nom nom nom.
2) CIOBAR
You think hot chocolate is delicious?
Wait 'till you try Italian hot chocolate.
It's so rich and dense and creamy and just, ugh, SO good.
Oh, and of course it's even more addictive. Consider yourself warned.
Ciobar is hands down the best brand we have to make it at home.
Baci is Italian for "kisses" — quite the appropriate name since these yummy treats are as sweet as kisses.
Wrapped in a multilingual love note, these delicious chocolates are filled with a succulent heart of gianduia, gloriously crowned with a whole hazelnut and then enrobed in a chocolate shell.
They come in cute little boxes and make great stocking stuffers.
Looking for another fantastic stocking stuffer? Look no further. Pocket Coffee combine dark chocolate with coffee.  What greater gift can you give?
5) GIFT BASKETS
As usual, we save the best for last  — gift baskets for your foodie friends!
I can't think of a better way to honor the Italian cuisine than with authentic products like olio d'oliva (olive oil), lenticchie (lentils), cantuccini (Tuscan almond biscuits) and more goodies —  all rolled into one!
What's on your wish list? Let me know in the comments below!
If you enjoyed this guide, please share it and spread the holiday cheer with your fellow Italophiles!
This post includes affiliate links to products I recommend. You can read my full disclosure here.