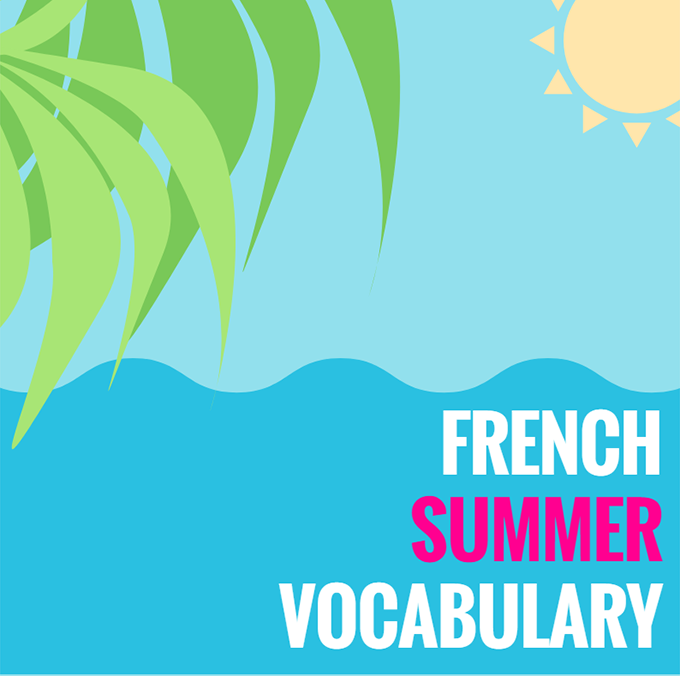 Today we are going to talk about summer… en français.
I've been to France over the summer season two times thus far and there's no way I would've survived without memorizing these vocabulary words first!
Well, okay, that might be a tad bit extreme, but the list of words and phrases that I'm about to share with you definitely came in handy during my summer trips.
When we think of summer, we inevitably think of holidays – "les vacances".
Traditionally, families and friends take advantage of sunny days (les journées ensoleillées) to travel (voyager) or simply go to the beach (aller à la plage).
"Je suis en vacances!" (I'm on holiday) This is what you can excitedly exclaim once you're off your study or work duties.
French people have a specific term to indicate the summer break: "les grandes vacances" which means "big holidays".
Why is that?
Well, that's simply because summer is the longest period of school holidays for kids – from July to August, 8 weeks total.
Once school is no longer in session, les enfants are finally free to engage in fun outdoor activities.
Summer Activities in French
Aller à la mer

– to go by the beach

Faire ses valises

– to pack

Défaire ses valises

– to unpack

Marcher sur la plage

– To walk on the beach

Se bronzer – to sunbathe
Nager – to swim
Summer Months in French
juin (June)

juillet (July)

le mois d'Août (August) – Beware of the pronunciation!

The correct pronunciation of août is "oot".
"Des aoûtiens" is the name given to August vacationers: un aoûtien (if he's male), une aoûtienne (if she's female).
People taking their vacation in July (juillet) are called "un juilletiste, une juilletiste".
Summer Weather in French
When talking about the weather, French people use the verb "faire" (to do).
The usual construction is: "Il fait + ___"  followed by "chaud", "froid" or what else.
Il fait chaud

– It's hot

Il fait du soleil

– It's sunny

Il fait beau – The weather is nice

La chaleur – The heat
Le soleil brille – The sun is shining
Le ciel est bleu – The sky is blue
YOUR FREE FRENCH SUMMER VOCABULARY!
Click below to receive your French Summer Vocabulary straight to your inbox for free.
If you've already got access to the Language Learning Library, use your password to download it directly from there.

What are your plans for the summer? Did you learn any new French words by reading this post?
Please share in the comments!