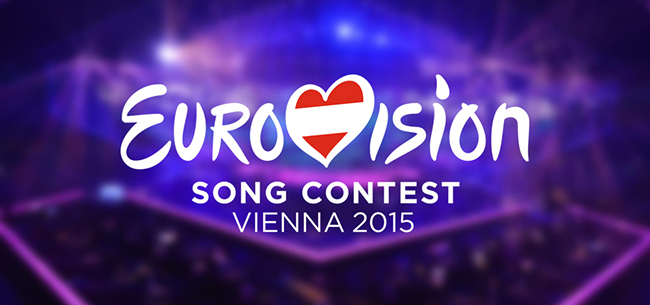 There was an interesting discussion on Twitter last night during the Eurovision Song Contest 2015.
Lindsay from Lindsay Does Languages hosted a very entertaining live chat using the hashtag #EuroLangParty to celebrate one of Europe's most popular TV traditions.
Bloggers, language lovers and people from all over the world reunited to tweet their opinions and talk about their favourite songs throughout the contest.
We had a lot of fun!
So many thoughts were shared but there's one particular topic I'd like to mention. It sparked a debate.
Why so many songs were performed in English?
You see, we're talking about an European competition here. This year 40 countries were taking part and 33 of them were using the English language instead of their own native one. Boo! Quite a bummer, huh?
Eurovision more like Anglo-Vision?
Honestly, it felt more like Anglovision instead of Eurovision. I know that English is understood by most people and performers who sing in English are more likely to win. Still, the best thing about Eurovision is its international flavor. The contest starts losing that flavor when everything is in English, don't you think?
Kerstin Hammes blogged about this last year and I can totally relate: Eurovision is letting language learners down.
I'm voting Montenegro because they're not singing in English #Eurovision #EuroLangParty #esc2015 #mne

— Alex Rawlings (@RawLangs_Blog) May 23, 2015
@kerstinhammes @trysty True. That's exactly what I thought. The songs are pretty nice so far, but I'd love to hear some non-English music.

— Runaway Daydreamer (@runawaydaydream) May 23, 2015
And the winner of the night: The English language. The losers: all other European languages. #ESC2015 — Alex (@inglesenhuelva) May 23, 2015
That being said, I'm still a fan of Eurovision and I'd like to go to Stockholm to watch the show live in 2016. Who's with me? I hope there'll be some more multilingual entries and a real international vibe!
In the meantime, let's take a look at the countries that decided to submit an entry in their native tongue this year. Thumbs up for them!
ITALY: Il Volo – "Grande Amore"
Il Volo, winners of the Sanremo Music Festival, with their song "Grande Amore".
SPAIN: Edurne -"Amanecer"
Edurne was chosen to represent Spain with her song "Amanecer".
FRANCE: Lisa Angell – "N'oubliez Pas"
Lisa Angell was chosen to represent France with her song "N'oubliez Pas".

MONTENEGRO: Knez – "Adio"
Knez was chosen to represent Montenegro with his song "Adio".
PORTUGAL: Leonor Andrade – "Há Um Mar Que Nos Separa"
Leonor Andrade was chosen to represent Portugal with her song "Ha Um Mar Que Nos Separa".
FINLAND: Pertti Kurikan Nimipäivät – Aina mun pitää
Pertti Kurikan Nimipäivät (PKN) is a Finnish punk rock band and they were chosen to represent Finland with their song "Aina Mun Pitää".
THE WINNER: SWEDEN 

Måns Zelmerlöw – "Heroes"
Special mention for the winner.  Måns Zelmerlöw of Sweden has won the 2015 Eurovision Song Contest with his song "Heroes".
YOUR TURN: What do you think about English taking over Eurovision? Did the right song win? Should Eurovision songs all be in the national language?