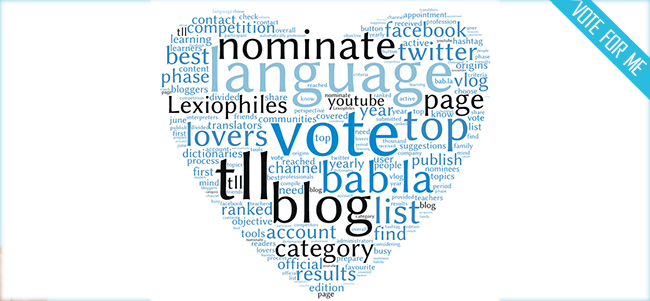 Runaway Daydreamer has been nominated for the second year in a row in The Top 100 Language Lovers 2015 competition hosted by bab.la and Lexiophiles. Hooray!
That's a wonderful accomplishment and I have to thank all of you for your support. Merci beaucoup! Now it's time to vote and I need your help to make it to the Top 25.
WHAT'S IN IT FOR ME?
I'm writing an Italian language guide at the moment and I'm working on many other useful resources.
I'd love to publish them for free on the blog once I get a wider audience. I'd like to reach as many language learners as possible. By supporting the blog, you'd give me the chance to share my work with a huge community. You will help my little activity immensely by enabling me to get recognized for the content I create. It would be a spur to go on writing and blogging.
Plus… *drumroll*… It's my birthday on Sunday! Yep, 24 candles. If you can spare a moment to vote for Runaway Daydreamer, I'd be a happy birthday girl. Very, very happy indeed.
SO HOW CAN I VOTE?
Scroll down to find Runaway Daydreamer and click 'Vote'. Easy-peasy. Don't forget to vote for your other favourites as well.
The voting phase lasts from May 26th to June 14th. The winners will be announced on June 17th. Good luck everyone! Bon courage, buona fortuna y buena suerte!
PS: If you're feeling particularly generous, spread the word and share the link on your networks – either over Twitter or Facebook or Instagram – anywhere you like. You'd do me a huge favour.