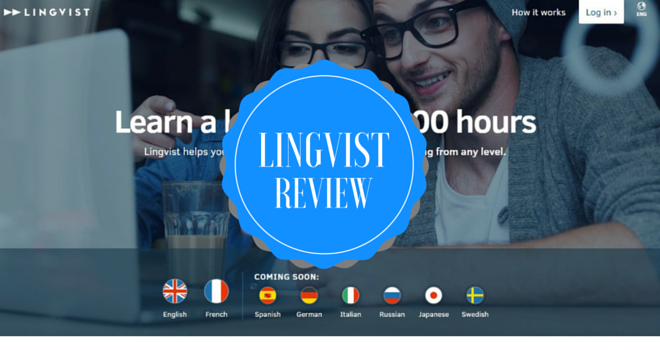 Learning new languages at superspeed is probably the dream of every aspiring polyglot.
Lingvist offers you just that – or at least that's what it promises.
What's Lingvist? I hear you ask. Lingvist is a brand new platform, launched in 2014 and still in its beta version.
Lingvist is also the tool I am currently using to practice French – I am on a 10-day streak and I have no intention of stopping!
Overview
The big claim behind Lingvist is: "Learn a language in just 200 hours".
For any skeptic out there – like me! – the website also adds that "it's no magic, just pure science!".
What's the formula, then? A scientific, technical, data-driven approach.  The tool uses a smart algorithm that teaches you the important words and phrases that matter first. As if that wasn't enough, this is a proven method. It was tested by the co-founder himself, Mait Müntel. He was looking for a quick way to learn French while working at CERN in Switzerland that didn't demand as much time as a class would. He developed a prototype of Lingvist, he put himself to the test and took a high-school level French exam. He passed.
First impressions
Can you learn French in 200 hours, then? Umm, I don't believe so. Certainly not by using this platform alone. You can learn some French in 200 hours but I think this claim misrepresents what you'll be actually able to do once you complete the program (according to them you'll reach a B2 level proficiency).  
First of all, each one of us is different so every learning experience is different. Secondly, there is no speaking practice on Lingvist. You won't have any conversation with native speakers because most of the emphasis is on listening, reading and vocabulary. Nonetheless, Lingvist is a magnificent tool.
What do you get when you log into the website?
Let's have a closer look.
Lingvist consists of three sections:
'Memorize'

which is where you'll find lots of i

nteractive fill in the blank exercises.

'

Listen'

which is full of

good listening material

.

 The

bite-sized audio recordings also come with transcripts (awesome!).

'Read'

which provides a variety of texts – from articles to funny jokes and dialogues. To be completely honest, I usually prefer finding materials to read in a foreign language by myself so I didn't spend much time on this section.
I really like the interface because it's very sleek and modern-looking, extremely easy to navigate.
Grammar in a nutshell  
A feature that I've found to be quite useful is the grammar guide on top. It's called "Grammar Hints and Tips" and you can find it in the header under the button with quotation marks.  It doesn't focus extensively on grammar explanations, it just covers the basics and it goes straight to the point by answering some of the most common grammar-related questions.
The Good Stuff
The best part for me is the memorization system. It forces you to come up with the right words and to actively remember them. Keyword: actively. There's nothing passive about this; if you misspell a word, you are required to re-type the correct answer.  
Lingvist picks up learning where you left off and you can see your daily progress on the dashboard. You can also sort the words you've learnt by "last practiced" and "times practiced".
The learning experience is adaptive and fully personalized.

Lingvist is free (yes, free!) while in public beta but things may change in the future. If I were you I would jump at the chance to use it without spending any money.
Psst! I've found out that they've also developed an app available for iOS and Android but I still have to try it out!